2017 Halloween Social Media Campaign Ideas
By Editor ; October 9th, 2017
Halloween is coming up and now is the perfect time to start your Halloween preparation, come up with fresh and fun (and a little scary:)) Halloween ideas that will help you engage with followers and customers on social media, and show your lighter, fun side.
Halloween is one of those holidays that have completely moved to social media. So as you can imagine this presents endless opportunities for your brand to shine. And what's the best part: you don't necessarily have to have a big budget to kill it at social media's biggest holiday.
But how to grab the attention of all people who will be turning to social media for ideas and inspiration, deals and promotions?
We've done all of the work for you, and all you need to do is to pick up some of any of the Halloween ideas and designs; brand the designs with your logo and promotion and publish it to your social media profiles (sign up for DigitalOcto. It's free). In a matter of minutes, you will be able to get it all done - from social media covers in the spirit of the holiday, to promotions and contests that will boost your social media following, drive sales and increase brand awareness.
Pretty impressive, huh?
Update your Facebook and Twitter Covers (and website header/banners) to reflect the season
Decorating with Halloween-themed graphics your social media and website will give your fans a sense of that spooky and fun atmosphere surrounding Halloween. Simply refreshing the banners on your social media profiles to reflect the season and this will generate a "story" in your users' feeds.
Don't have a design team at your disposal? There is nothing to worry about. DesignPro is a free browser-based Image editor tool that doesn't require any design skills or Photoshop. It's easy to start off. Here are some ideas for Facebook and Twitter covers, you can rework for yourself with a few clicks:

Get creative with "spooktastic" images
Visual content like images and videos grab attention on social much better than plain text and link previews. No matter the size and sector of your business, special occasions like Halloween are the time to loosen up a little bit and have some fun. So it's apparent you should take advantage of this opportunity, right?
There are several ways to approach this on social media, here are some fun and easy ideas for your Halloween-themed content:
- Add fun graphics to existing shots of your products
- Go wild with Halloween puns on Facebook, Twitter or Instagram
- Pick a theme (monsters, ghosts, carnival, kid-friendly) and run with it
- Create spooky images and post one every day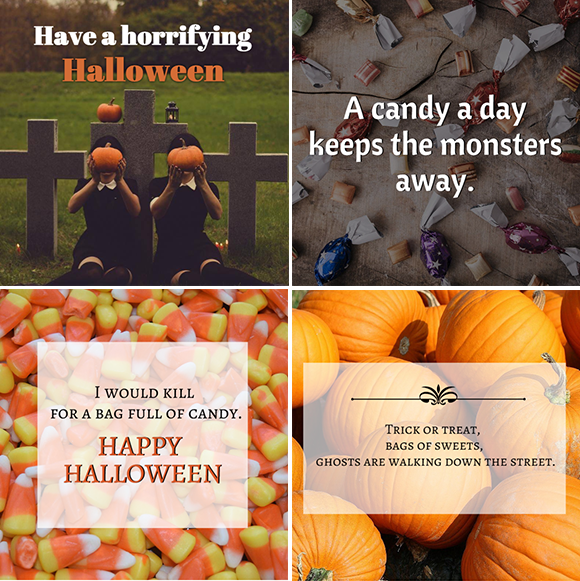 If you are wondering how you can handle this task, DesignPro will help you create visuals for your social media. It is a simple drag-and-drop tool with 1500+ free editable design templates. The paint of image creation is a thing of the past. Just give it a shot.
Give your customers a treat - Halloween coupons and discounts
It's Halloween and your existing customers and prospects expect discounts. Offering seasonal discounts is certainly one of the simplest strategies to realize. You can go with an all-out sale, a small sum off the next order or a holiday-themed freebie with every order over a certain amount.
Once you've created your sale you can then share it over social media and if you'd like to reach a larger audience you can strengthen it with a newsletter (email marketing) that has this same coupon inside. To make it work, create your copy and imagery with Halloween in mind and use the same graphics and texts across all marketing channels.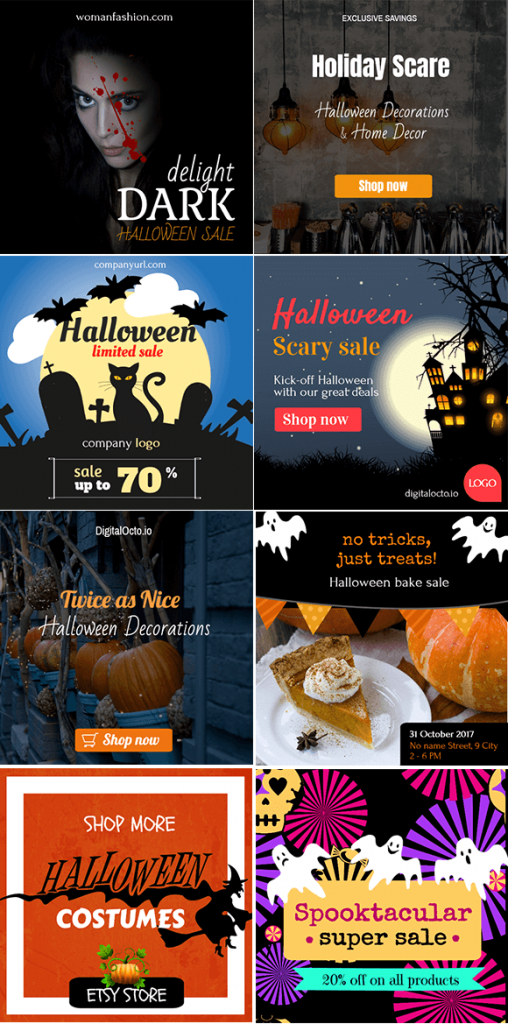 If your company has absolutely no connection to Halloween, you can still take advantage of Halloween spirit. You just need to be a bit more strategic when creating a discount or deal. Let's say you are a cheese company and you are considering creating a promo to engage people this Halloween: "Your kids may never want Halloween candy again once they try our cheese! Give it a try in your home for 25% off through November 5th" and share how it tastes in the comments.
It's easy, isn't it?
Host a photo contest or a giveaway
Contests not only increase engagement and attract new followers, but they also show that your biz has the holiday spirit. Throw in some fun prizes (that your followers would appreciate, or perhaps something from your own inventory) along with future shopping discounts for all the participants and everyone ends up a winner!
Want to get even more engagement? Invite other followers to vote on their favorite submissions to help you pick a winner! Having in mind that Halloween gives everyone the chance to wear silly costumes, you can host a photo contest on social media - it's really a fun way to engage with your followers.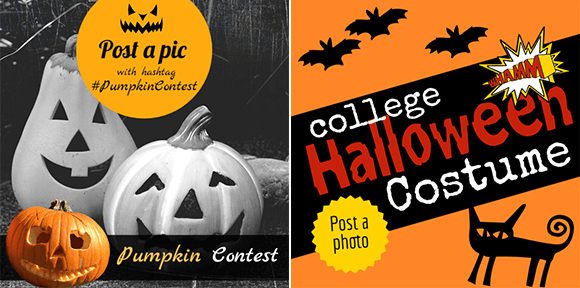 Here are some ideas for photo contests related to the type of your business:
A makeup company can hold a DIY Halloween makeup contest where users should submit photos (using their product of course);
A kids music can invite parents to submit photos of their kids in costume and offer prizes for different categories;
A food company can invite followers to share photos of how they're using their food in a spooky menu at a Halloween party,;
A veterinarian can invite followers to share photos of their pets in costume;
Any type of biz can host a pumpkin carving contest…
The opportunities are endless! To keep the interest live during the whole contest period, you can create a special campaign hashtag and offer fun rewards throughout the competition with the main prize announced on the morning after Halloween.
Share your team (or YOURSELF or your pets) in costume.
People love to connect with real people and they want to know the people behind their favorite brand. Share the fun side of your company, and your fans will feel more personally connected with your brand because they will know you better. It's a win-win strategy - fun for both your team and your followers
Be helpful & give advice or Halloween-focused tips
If you are not planning on giving discounts, dressing up, or scaring your clients, well, you just might go with the safe choice of offering Halloween related tips or giving instructions like how to do your own Halloween makeup or custom. If you're a digital agency, you can give tips on the area of your expertise - holiday digital marketing. If you're in the food industry, you can create your own recipes and share them on social media to take advantage of the extra traffic. The list really does go on and on.
To get the most impact put them together as a blog post first and then tease a few (or all) the tips out over social media one at a time (linking back to your blog post to read the entire batch!) This social media strategy allows you to become a source of valuable information that your audience will appreciate while at the same time bringing social media followers to your website!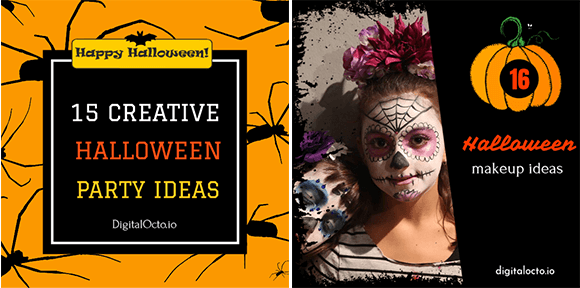 Hold a Halloween Party
Here are some bonus graphics, if you decide to organize a Halloween party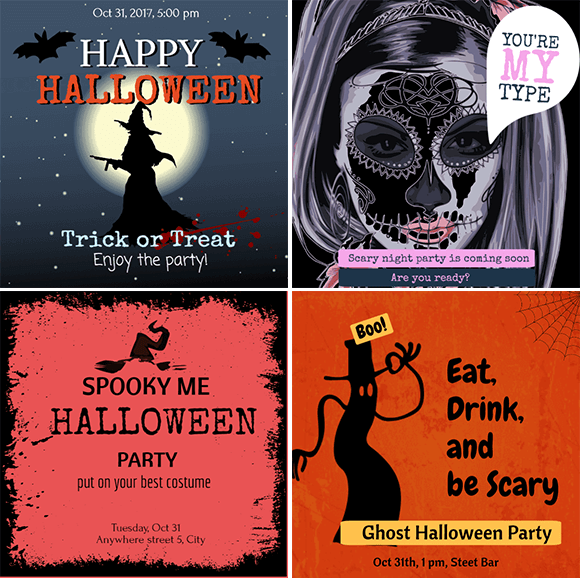 One more bonus tip: Email campaigns can help you boost the reach of your social messages by miles. The approach is similar to social, but the format, of course, will be different. Do not hesitate to take advantage of the email list, you've already had and send over the same deals or promote your contest. As you know traffic and exposure are all you need to get amazing results.
If you want to save some time while preparing your graphics and promotions, give a try to DigitalOcto and it will help you create visuals for social media, emails, blog posts and ads. It is a simple drag-and-drop tool with more than 1500 free editable design templates. The paint of image creation is a thing of the past. Just give it a shot.